Suffolk goes back to networking events
Networking offers a wealth of benefits; from building a professional community to skill sharing and collaboration but with more than a year of lockdown, are some of us a little rusty when it comes to face-to-face events.
Serial networker, Nick Pandolfi, has some advice as he prepares to host events in Suffolk and go networking once more.
I'm going to start at the end, having invested time at a face-to-face event, you want to be sure that your new contact can find you online and you may want to tidy up your LinkedIn profile and make sure the information is all up to date. Meaning, that when your new connection reaches out to connect digitally, you look and sound like the person they have just enjoyed meeting.
I have to say that I used to be sceptical to the merits of face-to-face business networking, I imagined that it such events would see the same group of people saying hello to one another each month, the coffee would be bitter and the whole event would be fruitless for business.
I was wrong, of those networking events I have attended over the past few years, I have not just picked up work, but made lasting business friendships.
I feel you get out of networking what you put in, for me, it's about connecting, listening, and discovering new opportunities to do business, sharing experiencing and pointing people to your connections for a business solution.
I enjoy meeting new people, after more than a year of Zoom networking, online quizzes and waving at people on mute, I can't wait to get out and talk business face-to-face, I hope to see you at a MENTA event in Haverhill, Bury St. Edmunds and Woodbridge this September.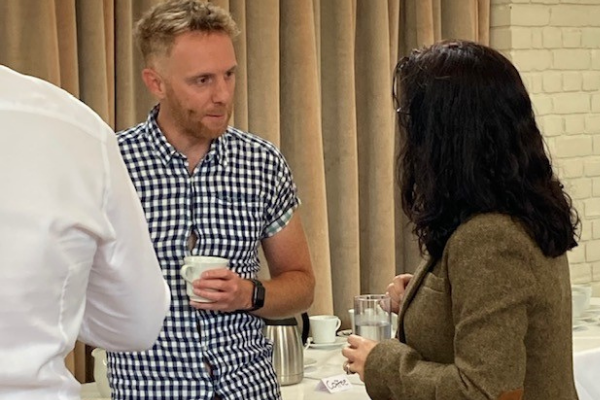 Nick's Top Tips for networking
Try differing events and find the one and format you enjoy most
Collect a business card to follow up post event and take your own cards or use the built into QR code on your LinkedIn profile and connect digitally at the event via your phone.
Engage with the host, speakers, and fellow delegates by asking questions, sharing ideas and make the best use of your time.
MENTA networking is in Haverhill on September 2, Bury St. Edmunds September 8 and in Woodbridge on September 28
Events are supported by Jacobs Allen Chartered Accountants.